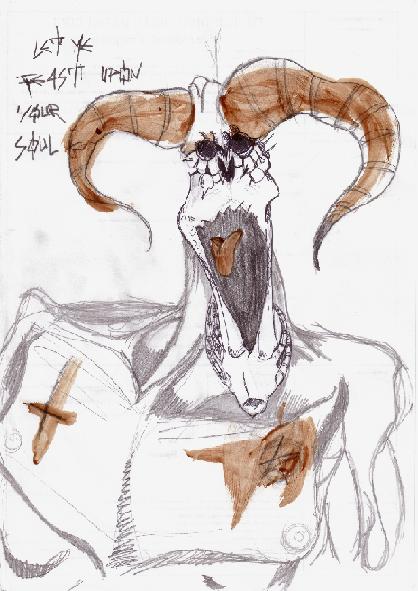 Let Me Feast Upon Your Soul

A picture that can be put together with the demon (Furya picture) from the main menu. The upper part seems to be made of bone, while the lower part looks more like flesh on a starved skeleton. empty eyes sockets, a mouth opening more than normal jaws could afford and a twisted (almost tortured) body make of this squetch one of my favourite pieces of artwork. As usual it surely is an auto portrait of me trying to expel the pain, to vomit it (as in the Green Line story by Stephen King). If you wonder about the red parts, hmm yes you ARE right : this is no pencil, nor ink, but blood from my veins. Call it deep involvement or a contract with that demon ? :)

Add comments : I painted an awful LOT of tortured creatures with exaggeratedly open mouth as can be seen in our Apocalypse demo but this one has something special I can't describe... Maybe my blood ?