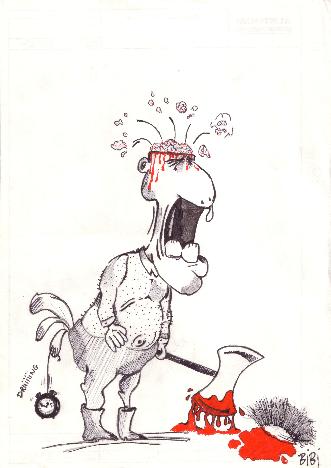 Pure Sts craziness in action !

Don't be scared if I tell you that this weird picture was painted out of random squetching, just letting my ill brain guide my fingers on the papersheet. An abnormal character with tiny eyes but disproportionate nose and teeth, dressed in pyjamas, a small clock hanging to his rooster-like tail... I forgot to mention the bleeding axe he's handling while half his head is missing and blood runs over his forehead. Hmm tasty isn't it ? I think this is a first step for you into my mind, welcome to the Asylum pals ! Note that the only color I used is red (as with most parts of this website too :) A psychiatrist would surely see inner pain here exposed as bloody punishment or something. He could be right... from the hand this character uses I think this is me since I'm lefthanded.

Add comments : No pencil this time, only basic fine black/red markers. This picture was done while I was getting bored to death at high school. Some of my mates really loved it and wanted me to sell it to him. It must be why I decided to keep it in the end.